Cyclone Biparjoy is likely to make landfall on 15 June. The western Indian state of Gujarat is on high alert as an extremely severe cyclone is due to hit parts of it on Thursday.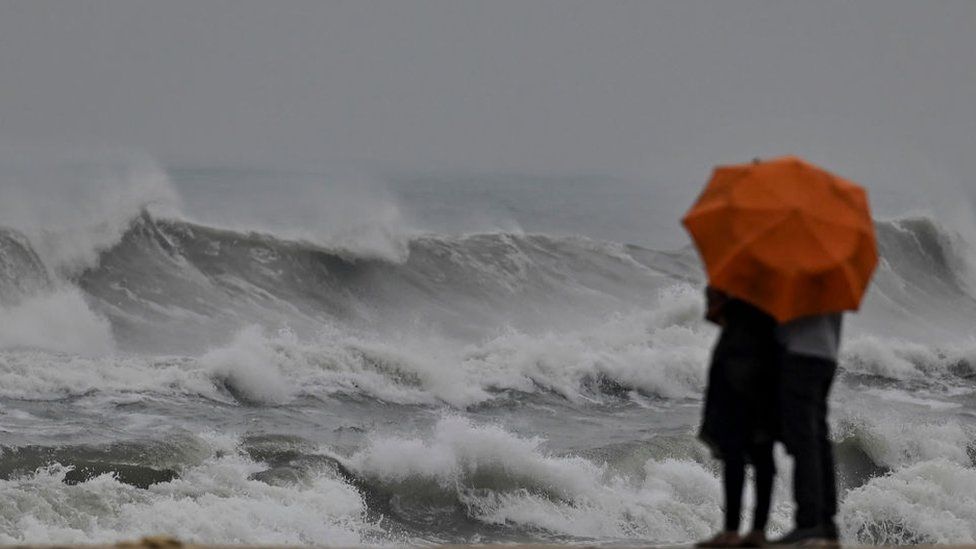 Biparjoy – a cyclone over the Arabian Sea – is predicted to move towards the state's coastline in the next two days.
Heavy rains and high tides have been forecast in several coastal districts in the state.
People have been told to avoid visiting beaches and fishermen have been asked to not go out into the sea.
The Indian Meteorological Department (IMD) said on Monday that the cyclonic storm was likely to move northwards until 14 June and then move "north-northeastwards and cross Saurashtra and Kutch and adjoining Pakistan coasts between Mandvi (Gujarat) and Karachi (Pakistan) by noon of 15 June".
It added that the storm could have a "maximum sustained wind speed of 125 to 135kmph (77 to 84 mph)" and could go up to 150 kmph.
Biparjoy – which means disaster or calamity in Bengali language – has intensified into an "extremely severe cyclonic storm" – the second highest category used by the IMD to classify tropical storms.
Until Saturday, the cyclone was expected to avoid Gujarat and move towards Pakistan's coastline.
However, India's weather department has now issued warnings to local authorities in Gujarat and has asked them to make preparations to evacuate people if needed.
People in coastal areas have been asked to stay indoors on the day the cyclone is likely to make landfall.
The Gujarat government has deployed national and state disaster response teams in areas likely to be affected by the cyclone.
The cyclone is expected to bring rains to a few other states along India's western and southern coast as well. The IMD has forecasted heavy rains in some regions in Maharashtra, Karnataka and Goa states in the coming days.
Also read: Biparjoy Cyclone Likely to Intensify into Severe Cyclonic Storm